At DES Sound studio I like to support music projects in what you need; your own songs, large or small, a colorful story or, who knows, a completely different production. Together we can create, after we discuss what it is you like to achieve, resulting in a plan (where needed) to get the job done. Below you find some reviews of people I worked with (or I am still working with) to show you who I am and what I have to offer. Hoping you like this approach, please contact me to meet face to face.
DES Sound studio is a modest studio equipped with Logic Pro X(software), Line 6 POD Studio UX2(audio interface) and a JM 47 condenser microphone for recordings. Also available are bass guitars, acoustic and electric guitars, a Roland TD-4PK (electronic) VDrum, Bluesharps, simple percussions and last but not least my own voice, including 35 years of studio and music experience as you can see on my band history page.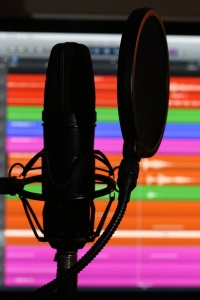 Studio reviews
Renske Jansen
Renske Jansen is a writer of children's books and theater scripts in which I support her with song writing:
"Erik is a very versatile professional. Due to his broad taste in music, he succeeds well in completing musical ideas, both covers and own songs. Song writing is a big talent. In his humble studio you feel at home soon, no matter if you are a beginner or professional. Erik listens well to your ideas and thinks out of the box. He adds a unique twist to every song and also makes you feel at ease during recording, giving positive feedback to enhance your performance. Mutual trust is the keyword.".